>> Sunday, January 2, 2011
For centuries throughout Europe and various European colonies, Twelfth Night marked the end of the winter holiday season. Contrary to what most modern people think, the twelve days of Christmas were actually the twelve days after Christmas, not the twelve days before. At the end of those twelve days was Twelfth Night.

According to The Shorter Oxford English Dictionary, Twelfth Night is "the evening of the fifth of January, preceding Twelfth Day, [Twelfth Night is also known as] the eve of the Epiphany, formerly the last day of the Christmas festivities and observed as a time of merrymaking."

While the Twelfth Night celebration has all-but disappeared from modern homes, its history is lush and filled with centuries of tradition.

WASSAIL

Historically, wassail was far more closely associated with Twelfth Night than it is with Christmas. During the Twelfth Night festivities, this hot, tangy apple drink is consumed in massive quantities. The celebrators within a house drank it along with their other goodies. Wassail was also offered to roaming groups of singers and entertainers who made the rounds through neighborhoods on Twelfth Night (see below).
Some traditions include "wassailing" apple trees to bring a good harvest in the coming year. This involved soaking bread in wassail and flinging it up into the branches.
The carol, "Here We Come A'Wassailing" was actually a song about Twelfth Night and refers in its first verse to the tradition of wassaling trees.
Here we come a wassailing
Among the leaves so green,
Here we come a wandering
So fair to be seen.

Love and joy come to you,
And to you your wassail too,
And God bless you and send you a happy New Year.
And God send you a happy New Year.
Although the new year had already begun by the time Twelfth Night rolled around, it was the first holiday of the new year and, for most, was the point when they truly considered that the new year had truly begun.
THE TWELFTH NIGHT CAKE
A Twelfth-cake or Kings'-cake is served with a bean hidden inside,
and whomever finds the bean is crowned king or queen for the night and is given the right to dictate the evening's festivities. Traditionally, the Twelfth Night cake was elaborate, either in flavor, decorations or both. These cakes were commonly what modern observers would think of as a fruit cake. Also, as Twelfth Night was meant to be a very generous celebration, the cake was never short of spices and flavor.
The most important part of any Twelfth Night cake is
the bean
. The easiest way to hide the bean is *after* the cake is baked. Take a small paring knife and cut a slit in the cake (you can do it right on the top if you plan to frost before serving, or from the bottom if decorating the cake is going to be one of your activities). Slip the bean inside. Once the cake is decorated, serve and enjoy.
TRAVELING ENTERTAINERS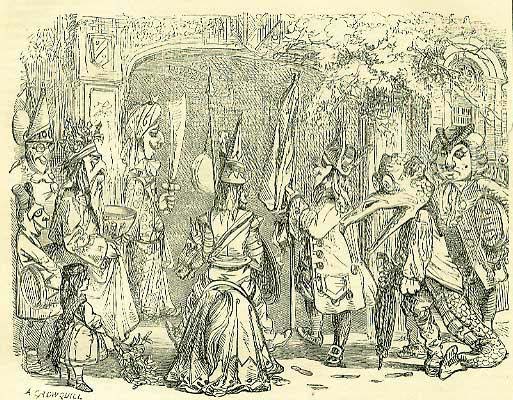 Twelfth Night celebrations included Mummers' Plays performed by traveling groups of "mummers." They were generally masked and often performed in pantomime.
As they traveled from house to house, the performers would be given food, something warm to drink--generally wassail--and often coins in exchange for the entertainment. The carol "Here We Come a-Wassailing," now associated with Christmas, refers to this custom in several of its verses:
We are not daily beggars
That beg from door to door,
But we are neighbours' children
Whom you have seen before.
...
Good Master and good Mistress,
As you sit by the fire,
Pray think of us poor children
Are wandering in the mire.
...
We have a little purse
Made of ratching leather skin;
We want some of your small change
To line it well within.
...
Call up the Butler of this house,
Put on his golden ring;
Let him bring us a glass of beer,
And the better we shall sing.
...
Bring us out a table,
And spread it with a cloth;
Bring us out a mouldy cheese,
And some of your Christmas loaf.
GAMES
An absolutely essential part of any Twelfth Night celebration was music and games. While there are scores of traditional games (snap dragon, skittles, pass the slipper), we generally just pull out our favorite board games. The point is to enjoy yourselves.
For ideas to make your own Twelfth Night celebration, as well as recipes, click on the tabs above.
Read more...